Carbide Wood Turning Tools
$0.00
Konetool supplies 2 series of wood turning tools, both of which feature replaceable carbide tips.
Request A Quote
Description
Konetool supplies 2 series of high-value lathe tools, which are lathe tools with ergonomic ash-made handles, sizing from 310mm to 500mm in length, and an aluminum alloy made replaceable handle with 250mm multi-function toolbars. Both series have roughers, finishers, detailers, and hollowers.
All the wood turning tools feature replaceable tungsten carbide cutters, which save the time of sharpening, compared with traditional lathe chisels. Once the cutter dulls, just rotate to a fresh edge. Tool shafts are well designed to install Konetool carbide tips and other major brands' cutters such as Easy Wood, Rikon, Simple Woodturning carbide cutters.
We will dispatch the products in 7 workdays since our customer places an order. We can also provide customization services.
Request a quote for further information (MOQ, price, delivery, etc) if you are interested in our woodturning tools. Our salespeople and engineers will reach out to you shortly after a quote and provide tailor-made solutions for you.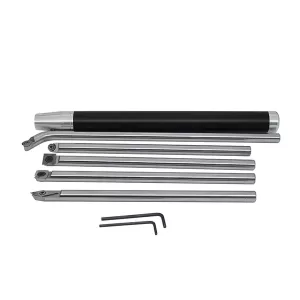 Type 1:
| | | | | | | |
| --- | --- | --- | --- | --- | --- | --- |
| Order NO. | Type | Shaft Length | Handle Length | Overall Length | Screw | Compatible Cutters |
| MTHL114KM68MB01 | Full Size Rougher, Square Tip | 180mm | 290mm | 470mm | M6 x 8 | 14 x 14 x 2mm Square Cutter |
| MTHL215RM68MB01 | Full Size Rougher, Square Radius Tip | 180mm | 290mm | 470mm | M6 x 8 | 15 x 15 x 2.5mm Square Radius Cutter |
| MTHL3R16M510MB01 | Full Size Finisher, Round Tip | 180mm | 290mm | 470mm | M5 x 10 | 16 x 3mm Round Cutter |
| MTHL4KVEM48MB01 | Full Size Detailer, Diamond Tip | 180mm | 290mm | 470mm | M4 x 8 | 28 x 10 x 2.5mm Diamond Cutter |
| MTHS215RM68MB01 | Mid Size Rougher, Square Radius Tip | 150mm | 250mm | 400mm | M6 x 8 | 15 x 15 x 2.5mm Square Radius Cutter |
| MTHS3R12M48MB01 | Mid Size Finisher, Round Tip | 150mm | 250mm | 400mm | M4 x 8 | 12 x 2.5mm Round Cutter |
| MTHS4KVEM48MB01 | Mid Size Detailer, Diamond Tip | 150mm | 250mm | 400mm | M4 x 8 | 28 x 10 x 2.5mm Diamond Cutter |
| MTHS3R12M48MB02 | Full Size Hollower, Round Tip | 205mm | 295mm | 500mm | M4 x 8 | 12 x 2.5mm Round Cutter |
| MTHM111KM48MB01 | Mini Size Rougher, Square Tip | 110mm | 200mm | 310mm | M4 x 8 | 11 x 11 x2mm Square Cutter |
| MTHM312KM48MB01 | Mini Size Finisher, Round Tip | 110mm | 200mm | 310mm | M4 x 8 | 12 x 2.5mm Round Cutter |
| MTHM4VEM48MB02 | Mini Size Detailer, Diamond Tip | 110mm | 200mm | 310mm | M4 x 8 | 28 x 10 x 2.5mm Diamond Cutter |
Type 2:
| | | | | |
| --- | --- | --- | --- | --- |
| Order NO. | Type | Overall Length | Screw | Compatible Cutters |
| MTHS114KM68JB01 | Tool Bar, Square Tip | 250mm | M6 x 8 | 14 x 14 x 2mm Square Cutter |
| MTHS215RM68JB01 | Tool Bar, Square Radius Tip | 250mm | M6 x 8 | 15 x 15 x 2.5mm Square Radius Cutter |
| MTHS3R12M48JB02 | Swan Neck Tool Bar, Round Tip | 320mm | M4 x 8 | 12 x 2.5mm Round Cutter |
| MTHS3R12M48JB01 | Tool Bar, 12mm Round Tip | 250mm | M4 x 8 | 12 x 2.5mm Round Cutter |
| MTHS5R16M510JB01 | Tool Bar, 16mm Round Tip | 250mm | M5 x 10 | 16 x 3mm Round Cutter |
| MTHS4KVEM48JB01 | Tool Bar, Diamond Tip | 250mm | M4 x 8 | 28 x 10 x 2.5mm Diamond Cutter |
| MTHL1295K263JB01 | Interchangeable Tool Handle | 295mm | | |