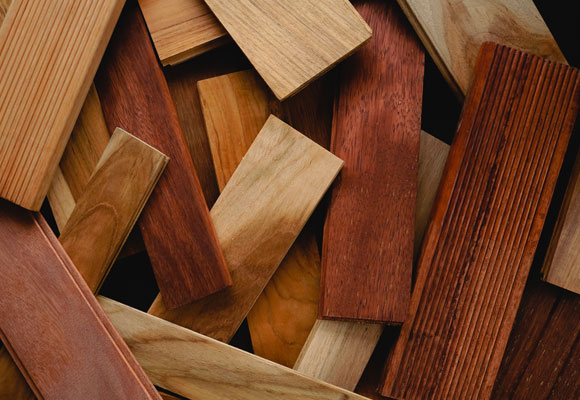 What Is Plywood?
Thanks to its versatility, plywood is highly valued for its widespread use in furniture making and interior decoration, such as doors, windows, walls, and flooring. With several compressed layers glued together, plywood features lightweight and strong and costs much less than solid wood. However, in some aspects, plywood performs better than solid wood. It is resistant to moisture and temperature fluctuation, thus reducing expansion and shrinkage.
These features popularize plywood and make it suitable for various applications. Today, we are going to further explain the types, applications, and benefits of plywood.

What Is Plywood?
Like other engineered boards such as medium-density fibreboard (MDF), particle board (chipboard), and oriented strand board (OSB), plywood is also a member of the manufactured wood-based panel family. Plywood consists of resin and several thin layers of wood fiber, mostly three or more layers.
Core layers or veneers are 1.5mm to 2.5 mm in thickness and face layers or veneers are about 0.5mm. Face veneers are placed on the front and back sides of the panel and have a higher grade than core veneers. During the manufacturing, core veneers are glued and stacked in an alternating direction which means the wood grain of each layer is at a specific angle to the adjacent layer, such as 45 degrees and 90 degrees.
This design is known as cross-graining with several advantages. When we nail the edges of plywood panels, they won't split or crack. Cross-graining also enhances the dimensional stability of plywood, minimizing shrinkage and expansion. Additionally, the strength of the plywood panel is consistent in all directions. Generally, manufacturers use an odd number of wood layers to produce plywood boards because it reduces warping.
The most common sizes of plywood boards are 4 feet x 8 feet and 5 feet x 5 feet, but it varies in thickness. The most common thickness is 1/2 inch.
How Is Plywood Made?
Peeling
To start, the factory will select a high-quality wood log, aka a peeler, and lay it horizontally in a wood peeling machine. As the log rotates about a long axis, a long peeling knife debarks the log into a large thin layer of wood.
Cut to required sizes
After the wood log is peeled into thin pieces of veneer, these pieces will be cut into the required sizes. Then, dry them.
Glued and pressed
These veneers are then graded and glued together. High temperature and high pressure are needed to form the plywood during the process.
Patching and sanding
The final process is to patch small surface defects and smooth the surface for a nice appearance.
Adhesives
Different adhesives are used in the manufacturing of plywood for different applications. The urea-formaldehyde glue is for indoor plywood since it is less water-resistance. It is cheaper than the phenol-formaldehyde glue which is more water-resistance, and suitable for outdoor and marine-grade plywood.
Types Of Plywood

There are several types of plywood for different applications. Here are three main types of plywood:
Softwood Plywood
As the name implies, softwood plywood is usually made of softwood, such as redwood, SPF (spruce, pine, and fir), and cedar, and is mainly used in construction and industrial applications. Softwood plywood features excellent durability and bending strength, and outstanding moisture resistance. The most common size of softwood plywood is 4 feet x 8 feet and the thickness varies from 1.4 mm to 4.3 mm.
Hardwood Plywood
Hardwood plywood is made of hardwood, such as beech, eucalyptus, teak, oak, and mahogany. Compared to softwood plywood, it is denser and stronger. It is suitable for making furniture, and heavy-duty floor and wall structures. Hardwood plywood features superior durability, strength, and wear & impact resistance.
Marine Plywood
Marine plywood is specially designed for environments with high humidity or moisture. Thanks to BWP (Weather and Boil Proof) resin, this type of plywood won't be affected by water and can withstand any extreme weather, thus performing better in wet conditions even for a long time of usage. It is mainly used in interiors and exteriors, including signboards, railway coaches, truck bodies, bathrooms, kitchens, etc.
Other Plywood
There are several other types of plywood, including tropical plywood, aircraft plywood, decorative plywood, flexible plywood, and more. These are used in other different applications.
Advantages
As one of the most popular wood panels, plywood has a number of advantages. Thanks to its cross-laminated structure, plywood can resist high impact and features enhanced stability even under changes in temperature and moisture. This is of crucial importance in flooring and formwork construction. In addition, plywood is suitable for chemical works and cooling towers when preservative-treated. It has a high strength-to-weight ratio, thus ideal for structural applications.
Konetool supplies top-quality circular saw blades for plywood, resulting in a perfect finish. Request a quote if you are interested. We sincerely welcome anyone who has the intention to cooperate.