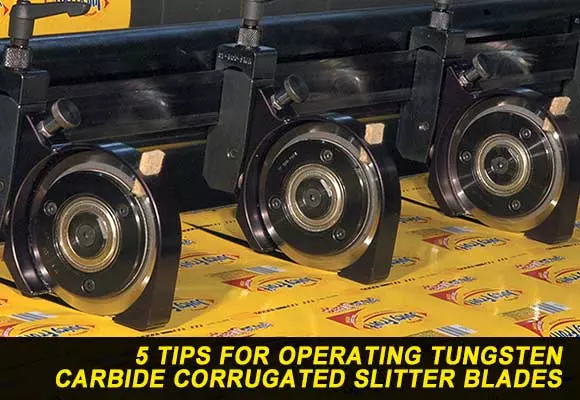 5 Tips For Operating Tungsten Carbide Corrugated Slitter Blades
There are so many different brands of machines for cutting corrugated paper. Different machines need different sizes of tungsten carbide corrugated slitter blades. But no matter which tool or equipment you use, the 5 following points should be pay attention to:

(1)Fixed tool holder:
After carbide corrugated slitter blade is fixed,the knife-edge cannot go left or right or jump up and down during operation.
(2)Knife sharpening device:
Knife sharpeningcan be set manually or customized. The material ofgrinding wheel must match with the corresponding corrugated slitting blade, to achieve effectively sharpening.
(3)Tool cooling device:
Because corrugated cardboard still has a certain temperature when transferred to slitting machine, and the friction with cardboard causes tungsten carbides corrugated slitter blade edge to heat up.When temperature rises to a certain level. The sharpness of knife-edge is affected. The cut edge of corrugated cardboard is very unsightly. Equipped with a cooling device can effectively improve the unsightly phenomenon of cut edge.
(4)Base cutting board:
Slitting blade must be embedded in the middle gap of base cutting board to cut cardboard. Under normal circumstances,the cutting edge shouldn't embed in the gap for more than 10 mm depth.

(5)Glue sticking to the knife
Glue sticking to the knife will increase the thickness of knife, and the cardboard will be subject to irregular friction, which will cause low productivity and affect lifespan. The following pointsyou can doto prevent the phenomenon:
①Appropriately reduce the amount of glue on the corrugated paper productionmachine.
②Check whether glue is applied to the corrugated peak.
③Check whether glue area and glue line are too large.
④Appropriately reducethe running speed ofcardboard, so that glue can be completely solidified.
Buy premium corrugated slitter blades from professional suppllier – Kone Tool!