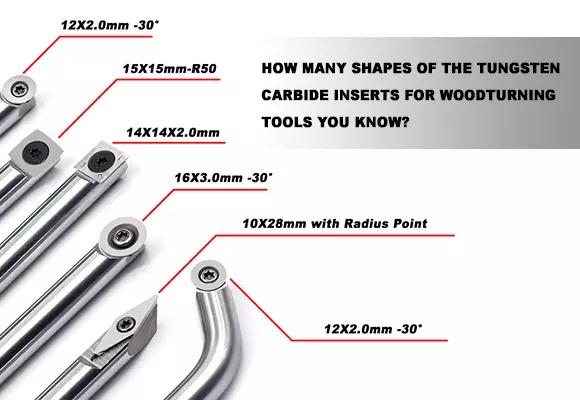 How Many Shapes of the Tungsten Carbide Inserts For Woodturning Tools You Know?
Tungsten carbide tools have many advantages over those tools made with other metals. Including the tungsten carbide inserts. Due to its hardness, high wear resistance, hot hardness, sufficient strength, high heat resistance, and good process performance, the tungsten carbide inserts cutter for woodturning tools can give your project a smoother and cleaner surface.
The tungsten carbide inserts cutter for woodturning tools can be used in the high-speed cutting environment and has good resistance to impact and vibration. The tungsten carbide inserts can be loaded on both Spiral planer cutter heads or your traditional woodturning tools. And the tungsten carbide inserts cutter for woodturning tools can be loaded easily so it has been used widely in many countries.
Inserts, as we all know, are installed in the woodturning tools. But do you know all the shapes of the tungsten carbide inserts? And do you know what they are used for? This article will answer these two questions for you.
Tungsten Carbide Inserts With Different 4 Shapes
1. Round-shaped Carbide Insert
The round-shaped carbide insert is mainly used on the finishing tool. There are two round types of cutters and both of these two types can be used to finish a smoother surface on your project. It is ideal for processing on curved, concave surfaces, and also can be used for hollowing jobs and common turning works.

2. The Diamond-Shaped Carbide Insert
The Diamond-shaped carbide insert looks just like its name. The diamond shape can decorate your project in just about anything you can think of. Such as coves, beads and grooves. Any hard-to-reach places you can use to reach and clean them up.

3. The Triangle Straight Carbide Insert
This type of insert is used for woodturning working lathe tools. Also, the triangle straight carbide insert can be used on numerous spiral/helical planer cutter head systems. The sub-micron grades make the knives have a longer tool life than other inserts.

4. The Square Shaped Carbide Inserts
This wonderful tungsten carbide insert with square shape head cutter has four sharp edges, every edge is available and you can rotate to another side if there's a blunt edge. Use this insert with round inserts, you can get a perfect ending on curving, concaving, hollowing and etc.

Now you know that the tungsten carbide inserts with 4 different shapes, they are round shape, diamond shape, triangle shape, and square shape and each of them can be used in specific fields.
But what I want to tell you more about the carbide tools is that carbide tools are capable of lathing away a massive amount of wood in a short amount of time. The cutters were designed with this in mind so you don't have to worry about dulling the edge.
And stay focused when you use them, you can find out the sheer edges of the cutter, so you still have to be aware of those inserts with corners. They still have the chance to dig into the wood if you're not careful enough. So be careful and take your time when using these tools for the first time until things become second nature.
At last, I want to tell you that we have more on our pages. If you are interested in these tools, click here and know more about these carbide products.