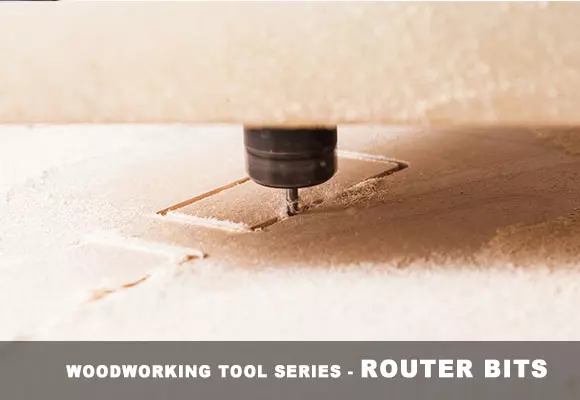 Woodworking Tool Serie: Router Bits
With a high cutting efficiency, router bits for woodworking can be usually seen in many places, and they are mainly loaded on the routers, which are used for milling and shaping your wood workpiece. It can be used in machines used for milling, or you can use it for tenoning, molding carving, rabbeting, etc. In this article, we are going to show you router bits with different shapes and types.

Different Shapes of Router Bits and the Feature of Its Structure
Woodworking router bits are mainly cylindrical, cone shape. But some people may have some special demands. So sometimes we can see some router bits with a special shape rotary body. The feature of router bits' structure is that there are blades that surrounded the milling cutter's body or end face. This kind of structure makes router bits just like a combination of some basic cutters. But that does not mean these multifunction router bits are perfect for every cutting condition. To finish our work, we need to do many different works. Drilling holes, milling, cutting. To mill different places like holes, steps, and flats, just one type of router bit is not enough. So, we have many different types of router bits.
Classification of Router Bits
In wood cutting or wood processing, there are the most sorts of router bits. These different types of woodworking router bits have a wide range of applications. There are mainly four ways to classify these bits.
The first is an integral type, which means the cutter body and blade edges are made as a whole.
The second one is the integral welded blade. Its blade is made up of cemented carbide or other wear-resisting materials and brazed on its tool body.
The third one is the tooth setting type. The knife tooth is fixed on the knife body by means of mechanical clamping. The replaceable tool teeth may be either made up of integral materials or welding materials. The milling cutter with its cutter head mounted on the cutter body is called the internal blade grinding type. The cutter head grinding on the jig is called external blade grinding.
The last one is called indexable type. The indexable structure has been widely used in face milling cutters, end milling cutters, and three-side edge milling cutters.
No matter what shape and type of router bits are in, the most important thing is their material. We used to use high-speed steel(HSS), but now we have carbide router bits. With long service life and wonderful cutting performance, carbide router bits for woodworking can be a good choice for you. If you have any demands, just contact us.