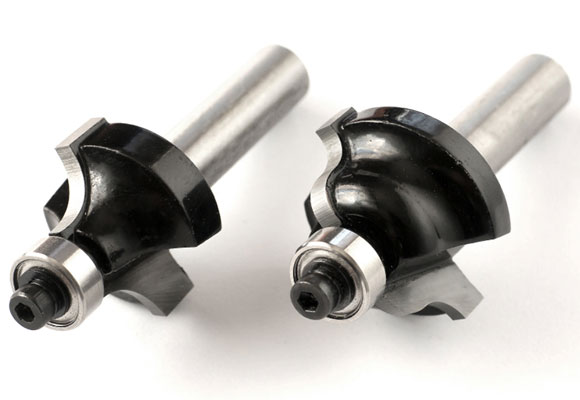 10 Basic Router Bit Types for Your Woodworking Projects
Whether you're a woodworking pro or a DIYer, a router is an essential tool you should use in your project. A router is the most versatile tool in woodworking with different router bit types. Router bits come in various profiles, tip types, and shank sizes, making the bit selection confusing. However, you don't need all types of router bits for your woodworking tasks. The most commonly used router bits include straight bits, flush trim bits, spiral bits, roundover bits, grooving bits, and jointing bits. With these router bit types, most of your projects can be done perfectly. Here we've listed 10 basic router bit types and their profiles, functions, sizes, and features. This list will help you discover the rich potential behind every router bit type and give you a clear guide on how to choose router bits for your jobs.
Straight Router Bit
As the most frequently used router bit type, straight bits are basic and essential to your project thanks to their versatility. They are mainly used to create grooves, dados, rabbets, mortises, inlays, etc. If we cut with the wood grain, we can form a groove. While cut against the wood grain, we can create a dado. These grooves or dados are often used in wood joints. Besides, for decorative purposes, straight router bits can hollow out areas for decorative inlays. Most straight bits are two fluted and feature various diameters and lengths.

Rabbeting Router Bit
As the name implies, rabbeting bits are specifically used for cutting L-shaped dados or shoulders to form rabbet joints or shoulder joints. In cabinetry construction, rabbet joints are primarily applied in making drawers and cabinet frameworks. Unlike straight bits, rabbet bits are equipped with pilot bearings, acting as cutting guides. The bearings are removable. Usually, a set of rabbet router bits includes a bit and several bearings of different sizes, ranging from ⅜" to 1⅛". The size of the bearing determines the depth of the cut. A larger bearing results in a narrower cut. 1¼" and 1⅜" are two common sizes of rabbet router bits.

V Groove Router Bit
V groove router bits engrave V-shaped grooves on panels mainly for decorative purposes. Thin and deep V grooves can be used in making signs. Wide and shallow V grooves are ideal for columns. Besides, V groove bits can also be used to create decorative grooves on furniture legs, table tops, and other furniture surfaces. With various angles and diameters, this type of router bit can cut grooves with different depths and widths, resulting in multiple effects.

Flush Trim Router Bit
Flush trim bits are designed for trimming the edges of panels, resulting in perfectly flat surfaces. Similar to a straight bit, a flush trim bit features a bearing that is the same diameter as the cutter, guaranteeing precise trimming. The pilot bearing is used to guide the cutting direction and can be installed at the bottom, top, or bottom and top of a flush trim bit. Trimming and replicating are the main applications of this type of router bit. Flush trim bits are ideal for trimming back overhanging edges of veneer coverings. For replicating purposes, a pattern template is needed to create exactly the same pieces.

Tongue and Groove Router Bit
As the name suggests, tongue and groove router bits are used for building tongue and groove joints. This type of joint is ideal for making strip flooring, tabletops, wainscoting, cabinet doors, and panels for its strong and self-aligning features. Tongue and groove router bits are suitable for table-mounted routers due to the stability of the table. Using this bit with solid wood will get perfect results. Tongue and groove router bits often come in pairs, but you can also use them separately for other purposes.

Roundover Router Bit
Roundover bits may be the most frequently used edging bits. They can cut a smooth and rounded edge to round the sharp edge over, just as the name says. Smooth and rounded edges can help preserve the finish of your project. Besides, unlike acute and sharp edges, rounded edges are much safer when people contact them. Roundover edges are perfect for most furniture edges, such as tabletops, shelves, chair arms, handrails, cabinet edges, etc. A roundover router bit also has an interchangeable bearing at the bottom. Like rabbeting bits, bearings with different sizes result in different depths of cut.

Chamfer Router Bit
Chamfer bits are designed for cutting bevel edges on wood boards. Decorative bevel edges can be applied on many types of furniture, such as tabletops, counters, bookshelves, etc. While some bevel edges are for jointing purposes, making multi-sided boxes. For accurate cuts, chamfer bits are also equipped with bearings, working as a cutting guide at the bottom of the bit. The diameters range from ⅛" to 2½", and the most common cutting angles include 11.25 degrees, 15 degrees, 22.5 degrees, 30 degrees, and 45 degrees.

Cove Router Bit
As opposed to roundover router bits, cove router bits create a concave quarter-circle edge on wood. Because of this, cove bits can be used together with roundover bits to form a rule joint, a woodworking technique that is often seen in folding leaf tables. Apart from creating wood joints, cove bits are designed for decorative molding purposes, such as edges of tables, window seals, frames, stools, doors, shelves, etc. Cove bits feature a variety of radii, like 3/16" and 5/16".

Core Box Router Bit
Core box bits are similar to cove bits, only without a bearing. Core box bits create half-round grooves or channels on wood panels. These grooves are mainly for decorative purposes on table edges, shelves, doors, frames, etc. Besides, core box bits can also be used to hollow out pieces of wood.

Roman Ogee Router Bit
"Ogee" is a word that is often used in the architecture industry, meaning molding with an S-shaped profile. The primary purpose of roman ogee router bits is decorative, cutting decorative S-shaped profiles on various pieces of furniture. Roman ogee bits feature a pilot bearing at the top of the bit.

KONETOOL is an ISO-certified manufacturer and supplier of industrial-level router bits. We provide carbide-tipped bits and solid carbide bits of more than 300 types. Our customers are large enterprises specializing in furniture making, interior decoration, or other woodworking-related industries across the world. We're always ready to welcome new business partners! Please contact us if you're interested in our quality router bits.