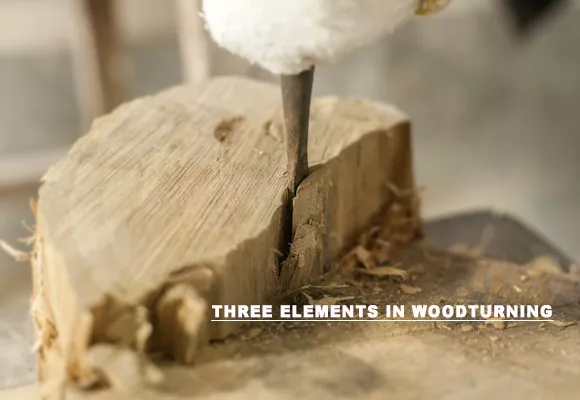 Three Elements in Woodturning
Turning should be the most widely used processing method in woodworking, and it is the foundation of woodworking. You may know how to operate your turning tools or CNC machines, but what we are going to talk about today are "three elements in turning". Can you name them? It is okay if you can not speak out their name. Because this article will introduce these three elements in wood turning work to you.

What are three elements in woodworking?
In fact, three elements are elements affect turning efficiency. They are processing materials, cutting tools, and cutting conditions. These elements influent processing time, your knives' service life, and processing quality. Especially cutting conditions, there are also three elements for cutting conditions, they are cutting speed, feed, and cutting depth, which directly affect tools' service life.
How these elements influent machining efficiency?
As we know that during machining or turning, workpieces rotate at a high speed. When we use turning tools to cut these workpieces, high temperatures will be generated at the interface between your tools and workpieces. With the increase in cutting speed, the temperature of your blade tip will rise, and result in mechanical, chemical, and thermal wear. It has been calculated that if cutting speed increases by 20%, tool life decreases by half. The feed has less effect on tools than cutting speed. As the feed increases, the cutting temperature will rise and the abrasion of your knife will increase. As for the cutting depth, it has less influence on turning tools than cutting speed and feed, but hardened layers of your cutting material will also affect the tools' life.

But no matter how you operate your turning tools or machines, you can not avoid choosing suitable blades for your materials. We used to use high-speed steel blades to make our blades. But now we have better materials— tungsten carbide. Tungsten carbide wood turning tools can be used for both wood and metal processing. It can be loaded on your hand tools, and can also be mounted on CNC machines. With high-temperature resistance and high hardness, carbide blades have longer service life than HSS blades. Although it is a little bit expensive, considering tools' life, it actually cuts costs.
Users shall choose the cutting speed according to the material to be machined, hardness, cutting state, material type, feed, cutting depth, etc. The selection of the most suitable processing condition is based on these factors. However, in practice, the choice of tool life is related to many factors such as tool wear, size change, surface quality, cutting noise, machining heat, etc. So when you are choosing processing conditions, you need to consider the actual situation.